Samsung touch screen smartphones are the first phones which became popular after Nokia basic phones. And till now Samsung has not look back in smartphone industry.
It is keep growing and also has captured a big market share across the world. It has now also become a tech giant company with which manufacture all types of technology products.
Although Samsung smartphones are good in built quality and durability but still these can also be damaged.
If you are facing touch problem with your Samsung phone screen then you might want to test it. You can also test your Samsung phone display if your phone has fallen from a certain height and its protective glass has been broken.
Many times we find that phone touch is working normal even when our smartphone protective glass or screen guard has been broken or damaged.
Also Read: How to Lock Apps in Samsung
It happens because all the shock has been absorbed by screen guard and saved the costly mobile display.
But still you want to test if Samsung mobile entire screen is working normal or its some part is broken or damaged.
You may also want to check your Samsung mobile screen when your purchasing a new or second hand Samsung smartphone.
In that case you can test it using Samsung screen test code easily.
Also Read: Samsung mobile secret codes pdf
Samsung touch screen test code
| | |
| --- | --- |
| Test Code | Check |
| Touch Screen | *#0*# |
| Screen Noise | *#80# |
| Screen Version | *#2663# |
| Screen HW test | *#2664# |
You can test your Samsung mobile screen using test code *#0*# from dialer. So now follow the simple steps given below to test your Samsung mobile screen properly: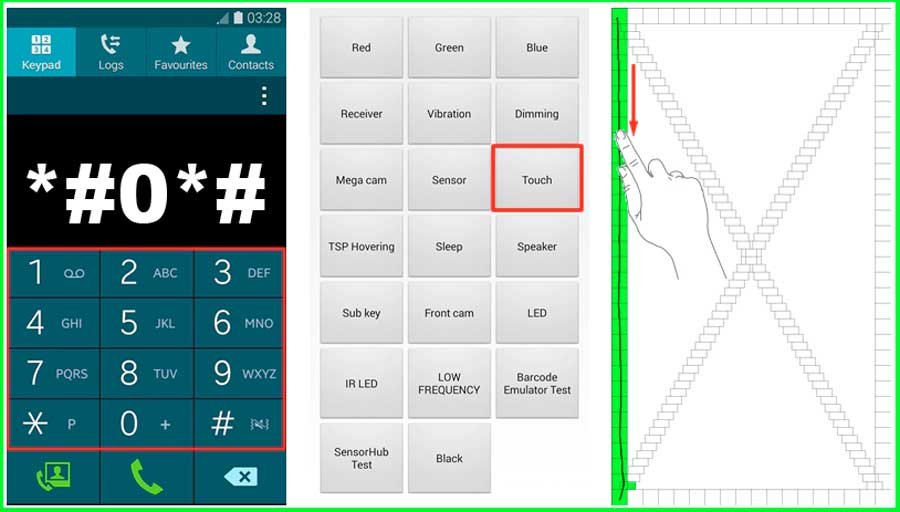 Open Dialer app in your Samsung phone.
Type *#0*# in dialer app.
Test mode will automatically open.
Click on Touch option.
Swipe on the screen according to the pattern.
Empty boxes will turn green on the working display areas.
You Samsung phone touch screen is working normal if all boxes turn green.
You have all done.
Also Read: Samsung Galaxy test code for touch screen
Test Samsung mobile display with Samsung members app
You can also check your Samsung mobile touch screen using Samsung Members app. Samsung members app comes pre-installed as a bloatware in Samsung phones.
If you Samsung Member app is not installed in your mobile then you can manually install it from Google Play Store.
Install & Open Samsung Members App.
Click on Get Help option.
Tap on Start button.
Select Touch Screen option.
Swipe across all the square on the screen.
You will get instant results.
Now you have check which part of the screen is working.
We hope that you are now able to test your Samsung mobile touch screen with and without secret code. And don't forget to tell us which method did you like to test your Samsung mobile screen.
If you have any question or feedback then let us know in the comment box below.
More Related Post