Welcome guys, This article is very very interesting and inspired from a YouTube video whose link is available below in this article.
Here one of our favorite YouTuber Mr. Indian Hacker carried out Samsung Ultra S22 drop test in river from the height of 1000fts.
Here you will find how he took Galaxy S22 Ultra to 1000fts height and dropped correctly in river. And what happen when you drop Samsung S22 Ultra from a huge height in water.
How they took Samsung S22 Ultra to 1000fts
Our favorite YouTuber with his team went to the bank of a pond and they were prepared well. They were having at least 2 drones, one to took the Samsung phone to 1000fts height and another to shoot the videos closely at 1000fts height.
More than 5 cameras with camera operators. Now he tested his drone in air to check the functionality.
After checking all the parameters they finally decided to conduct the experiment. First of all he tied the Samsung S22 Ultra with a long and strong thread to a yellow cylindrical box filled of air only.
Now he has tied the thread to phone using a white color strong tape to ensure phone should not drop in water in between when taking it to 1000fts height.
Everything went according to the plan and her was able to took Samsung phone into air up to the height of 1000fts.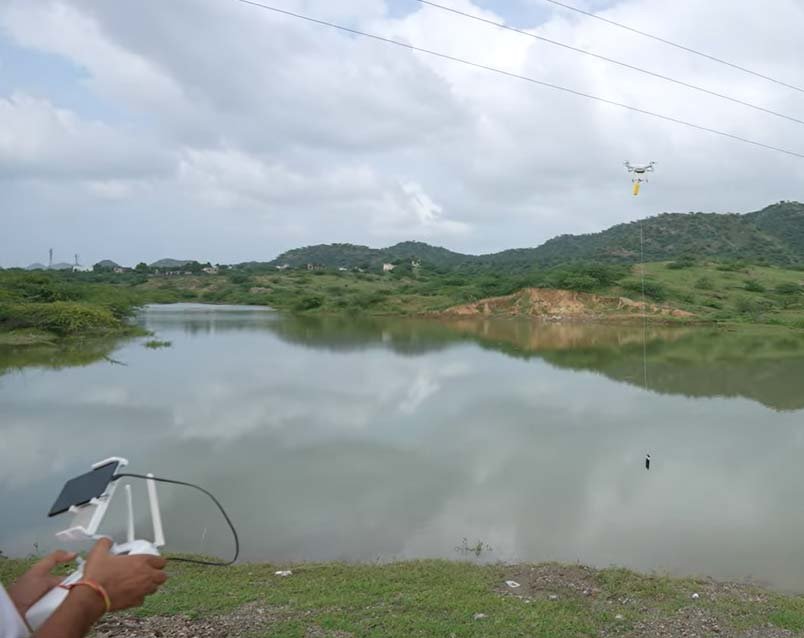 And it took much time to reach up to 1000fts height in air for the drone also. It must tell you that 1000fts height is equal to approximately 304.8 meters and this height is very high for a normal drone.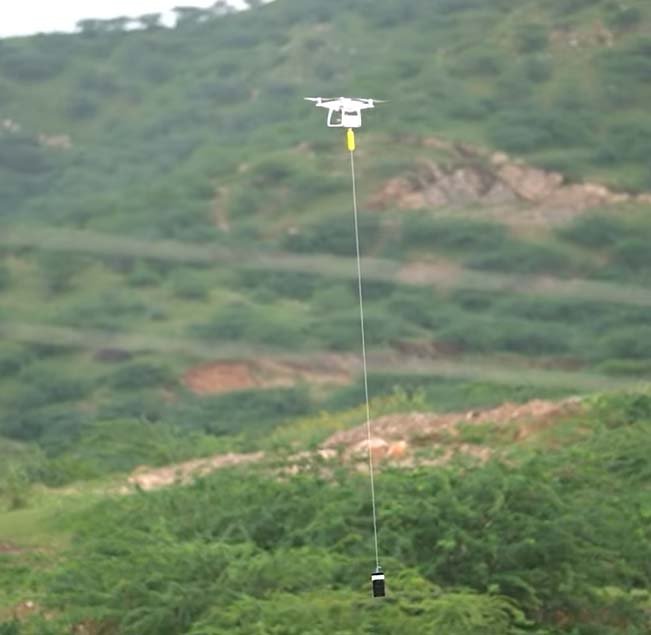 How they dropped Samsung phone from 1000fts height
Mr. Indian Hacker team was able to fly the Samsung phone into the air up to the height of 1000fts with the help of a drone.
Now the question arises, how the were able to drop the smartphone from there. Who released the Samsung phone at 1000fts of height.
I must tell you that there is a mechanism in some drones with the help of which you can release the things from any height with the help of remote control.
They were having separate remote control to release the Samsung phone with yellow cylinder and thread.
As soon as they confirmed that drone has reached to more than 1000fts height and it was still hovering over the water only, they released the Samsung phone with the help of remote control.
Samsung phone started going down toward the pond as earths gravitational force was attracting it towards the center of earth.
Now the smartphone hits the water from back side and bounces and again hit the water after that it immerse into the water.
How they find Galaxy phone in the water
Mr. Indian hacker was ready with his team including two divers. Divers were also wearing life jackets for safety purpose.
Divers immediately comes in action and swims near the location where they saw the water wave created after hitting of smartphone on the water.
When divers reached near the water wave they saw yellow cylinder floating over water. And you know that Samsung galaxy S22 ultra was tied with that yellow cylinder using a strong thread.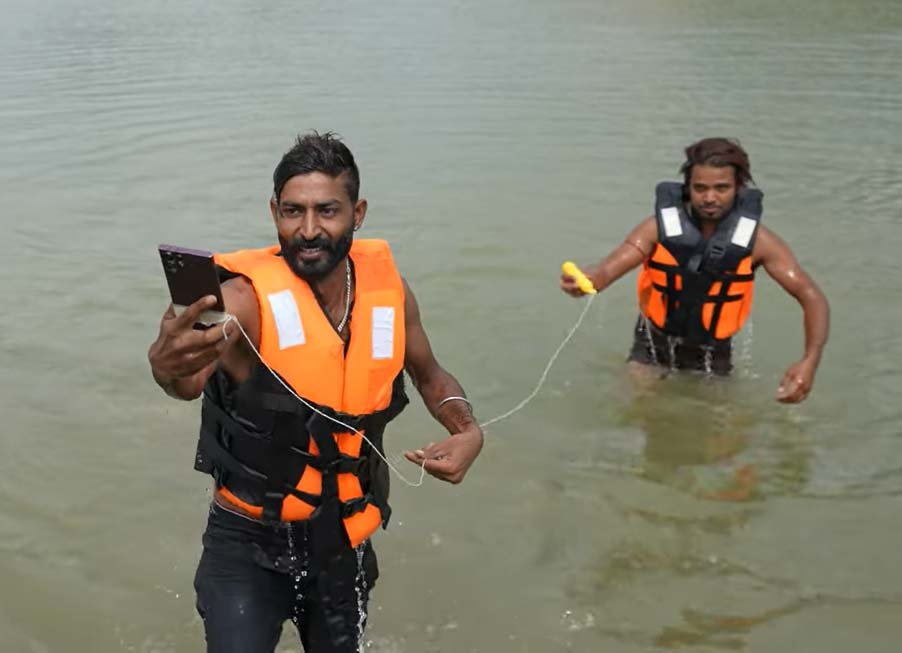 Now divers easily found the Samsung phone and bring it to bank of the river and handed over to Mr. Indian Hacker.
Does Samsung S22 ultra survive the water drop test
You will be amaze to read that the Samsung phone condition was really noticeable. As he noted that there were some cracks on the rear glass of the smartphone.
As well as they noticed rear camera was also broken and water entered inside the phone.
Guys, 1000fts height is very much high for a smartphone to survive. If any smartphone survive that much high level drop test then its a miracle and the smartphone built quality is next level and amazing.
But the smartphone was still working and all the data inside it was totally safe. So I must say that Samsung Galaxy S22 Ultra was unable to survive the test as the rear glass and camera was also broken.
So you should never tried things like this with you smartphone. Samsung S22 Ultra phone has IP68 waterproof rating but still water entered into it.
I can also guess that Samsung will never cover his smartphone under Warranty and he has to pay huge amount to get repair his smartphone.
You can also find the Samsung S22 Ultra spare parts price in authorized Samsung service center including display, back cover, camera and motherboard. So you will come to know how much Mr. Indian Hacker has to pay for it to repair it like a new one.
We hope that you have liked this article and come to know that can a smartphone survive when it dropped from 1000fts height on the water surface.
If you still have any question or feedback then let us know in the comment section below. We will be happy to answer your queries.
Leave a comment if you like this experiment by Mr. Indian Hacker and team.
More Related Posts