Water filter is the most important part of any water filter refrigerator as it filters out the impurities of the water.
Samsung recommends you change water filters every 6 months or after every 300 Gallons water filtered.
There are different water filters for different Refrigerator models, so first of all you need to find your refrigerator water filter model.
Locate water filter in Samsung refrigerator
You need to locate the water filter in your Samsung refrigerator. Water filter is on the bottom left for the 42 inch four-door flex built-in refrigerator.
If you are unable to find the water filter in your refrigerator, then you can refer the user manual you have received with your product.
Or you can also download the Samsung refrigerator user manual from Samsung official website.
Replace Samsung water filter
First of all, turn off the water supply in your Samsung refrigerator to start the water filter replacement process.
If you have located water filter in your Samsung refrigerator, then open the water filter cover and rotate the old water filter anti-clockwise to unlock it.
You can now strait pull out the old water filter to detach it from the refrigerator.
Now remove the protection cap of your new water filter as shown in the image and push it straight into the water refrigerator. And now rotate the nob to clockwise to lock the water filter inside the refrigerator.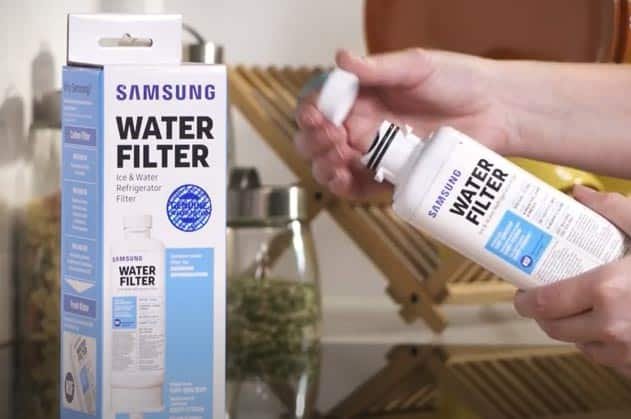 Reset the water filter
Now you have successfully replaced the water filter in your Samsung refrigerator. Now you need to reset the water filter from the refrigerator settings.
Simply press and hold the reset button for 3seconds to reset the water filter.
You have all done and you can now use your Water filter refrigerator to get the fresh water.
Shop water filters online
You can buy Samsung water filters from online store like Amazon and Samsung website.
More Related Posts