Hearing voice guides on Samsung TV while adjusting volume, changing channel or other settings then Voice Guide feature is enabled in your device.
If you have accidentally enabled, it and this feature is not useful to you then it might be very much annoying to you.
So, you may want to disable it as soon as possible to enhance the experience with your Samsung TV.
First of all, we want to know that what is Voice Guide on Samsung TV and projectors and how does it work.
What is Voice Guide in Samsung TV
Voice Guide in Samsung TV is just similar to Voice Assistant in Galaxy phones. Voice Assistant in Samsung TV is named as Voice Guide.
You may have seen or use Voice assistant feature in your smartphones and also noticed that it is not useful for people with normal vision. Sometimes, it becomes difficult to disable/stop voice assistant in phones and same case is here.
Voice guide is helpful to describe menu options in audible form for visually impaired people. Voice Guide is very useful for visually impaired people, but it may be very much annoying to people with normal vision capabilities.
Samsung TV or projector provides voice guides for actions when Voice Guide is enabled. You can hear voice guide while adjusting the volume and changing the channel on Samsung TV.
Voice guide feature reads information aloud for current and upcoming programs, search, viewing schedules, TV functions and various contents on the Internet.
Turn off Voice guide in Samsung TV
There are so many accessibility options in Samsung TV, Voice Guide is one of those features.
We have explained Voice Guide above in the post, now we have detailed instructions to Turn OFF Voice Assistant in Samsung TV. You can follow the simple steps to stop voice guide in Samsung TV.
Press the home button on your TV remote control.
Now navigate to Home >> Menu >> Settings >> All Settings.
Go to General & Privacy >> Accessibility.
Select Voice Guide Settings and disable Voice Guide.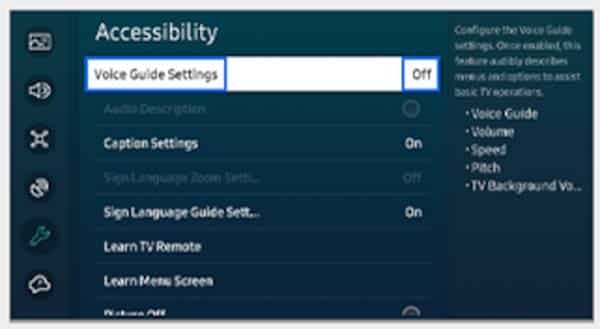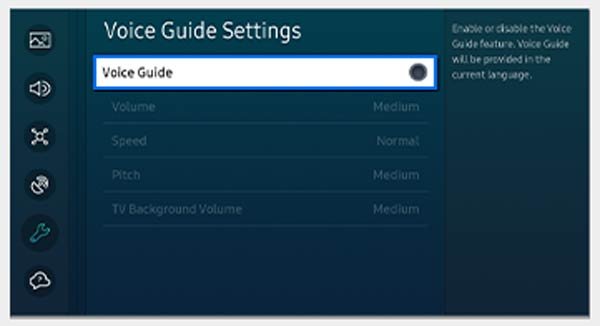 Stop Voice assistant using shortcut
You can also turn off voice guide feature in your Samsung TV using a shortcut key on your remote. In this case you need not to follow all the steps mentioned above.
This shortcut doesn't work in remote controls it only works with smart remotes.
Press & hold the +/- (Volume) button for more than 2 seconds access the Accessibility Shortcut. Now it will directly navigate you to Accessibility option in TV settings.
Now here you can turn off the Voice Guide menu without going step by step.
More Related Posts