Samsung TVs are reliable, but issues can occur any time in any device. Having difficulty in using Samsung TV? Giving a factory reset to your Samsung TV can fix most of the issues immediately.
If you are facing some issues with your Samsung TV or you have recently changed some settings and unable to restore those then a factory reset can help you a lot.
Other than factory reset there are self-test and self-diagnosis options in all Samsung smart TVs. You can also use them to recover your TV to the working states. But if nothing works for you then factory reset is the simple option for you.
Here we have very simple guide on how to reset Samsung TV to factory settings. Please note that reset will change all the settings to default settings.
Also Read: How to turn on Samsung TV without remote
Samsung TV how to reset
Navigate to the location Settings >> Support >> Self Diagnosis >> Reset and now provide the PIN and then select the enter to reset Samsung TV to factory settings.
Samsung TV reset guide can be little bit different for different models, but the basis idea is same for all models. You can follow the simple steps to reset your Samsung smart TV:
Power on Samsung TV.
Press Home button on the TV remote control.
Select Settings options from the main menu.
Select Support option on your TV using remote control.
Select Self Diagnosis using remote control.
Find and select the Reset option.
Enter the pin using TV remote control. If you have not changed the PIN the default code will be "0000".
Select Yes using the navigation buttons on remote control and press enter.
You have all done.
Note: This process can take some time and Samsung TV may reset several times during this process.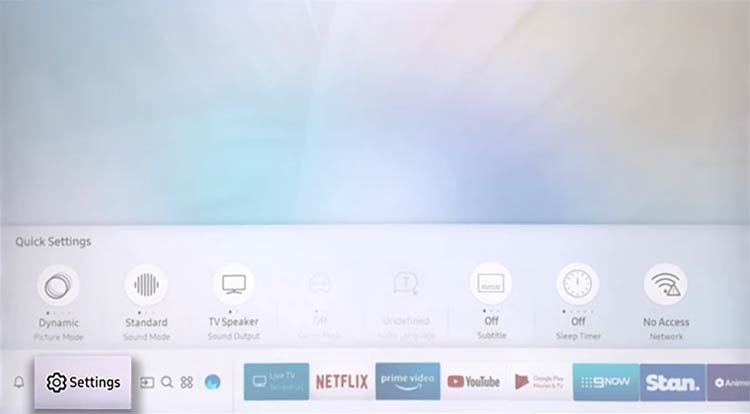 How to reset Samsung TV Video Guide
Here we have also managed a Samsung official video on how to reset Samsung TV. This video is applicable for newer versions of Samsung TVs.
For older version you can also refer our above-mentioned steps.
How to reset Samsung TV without remote
If your smartphone support IR blaster and having remote option, then you can use your smartphone as a remote-control device after configuring it according to the TV model.
If you are facing problems with your Samsung TV and your TV remote is also not working, then you might find yourself in trouble.
Don't worry! we are here to troubleshoot this problem. You can find multi-purpose button on the bottom of Samsung TV.
You can use this multi-purpose button to navigate, select and enter across the option available in the menu in your Samsung TV.
Also Read: Reset Samsung TV without remote
Procedure to reset Samsung TV is available above in this post. If you still have any question or feedback, then let us know in the comment section below.
Our reader's feedback is very valuable to us, and it can help us to improve the services provided on this website.
More Related Posts