There are a number of VPNs providers available worldwide, some are free, and some are paid. Free VPNs are not trusted and should only be used if you use VPN occasionally and when dealing with non-sensitive data.
Because free VPN companies can track your data and sell it on the dark web, or you can also see annoying ads on the free VPN.
But still if you want to use VPN rarely then it may be a good idea to use free VPN. Some free VPNs are also good, but we recommend you go for a paid VPN if you use it frequently or you are dealing with sensitive data.
We have tried many VPNs from different companies including free and paid VPN and bring you one of the best VPN for you.
In this post, we have reviewed NordVPN in detail with all its known pros and cons. NordVPN is the most popular and trusted VPN across the world.
So, after reading this post, you will come to know why NordVPN is the first choice of many VPN users.
Also Read: Best VPN for Samsung smart TV
Introduction to NordVPN
NordVPN is one of the fastest VPN providers and it is also one of the oldest in the market.
It was established in the year 2012 and launched their Android and iOS app publicly in 2016. They also launched a browser extension for Google Chrome in 2017.
And till now they are adding new features to the NordVPN. They provide AES-256 data encryption method to protect their user's data.
Internet speed always decreases up to some extent when you use VPN as compared to without using any VPN. However, NordVPN provides good internet speed and in some cases, we have also noticed it is the fastest VPN.
They have "No Log" security policy and they have headquartered in Panama which falls outside the five eyes, nine eyes and 14 Eyes jurisdiction.
NordVPN permits their one license to use in 6 different devices including smartphone, laptop, PC, smart TV and iPhones at no extra cost.
They also provide their users 24×7 customer support service through Chat support within the app.
One month money back guarantee option is also a good offering from NordVPN if someone wants to quit the subscription within 30 days.
It is also good for P2P (torrenting) and Gaming as it has a nice ping rate.
NordVPN review
Get NordVPN, only now 68% OFF +3 months FREE!
NordVPN comes under Nord security, Nord security has more products including NordVPN, NordLayer, NordPass, NordLocker and NordWL.
And SurfShark which is one of the best VPN providers, has already merged with NordVPN's parent company Nord Security.
Service & Features
NordVPN
Countries
60
Servers
5400+
Speed
Fastest in the industry
Encryption
AES-256
Chat Support
24×7
Supported Devices
6
Logs Policy
No Logs policy and audited twice
Supported Devices
Smartphones, computers, routers, Amazon fire TV stick,
Chrome, Firefox, Edge
Supported Routers
Asus, D-Link, DD-WRT, Linksys, Tomato, TP-LINK
Website
NordVPN
User Interface
NordVPN has a nice User Interface for all apps including Android, iOS, Windows and Linux. They provide almost the same UI for all NordVPN platforms.
It is easy to use and a feature rich VPN. They have almost all the features from basic to advanced which a VPN should have.
They are continuously adding new features in VPN apps to protect their customers' privacy. NordVPN is really an innovative VPN brand. There are so many options available in NordVPN.
Read More: Block Ads in Samsung phone
NordVPN Features
As we have already mentioned that NordVPN is an innovative brand so they are bringing new features to their apps.
Here we have explained all available NordVPN features in detail with their uses and functionality.
QuickConnect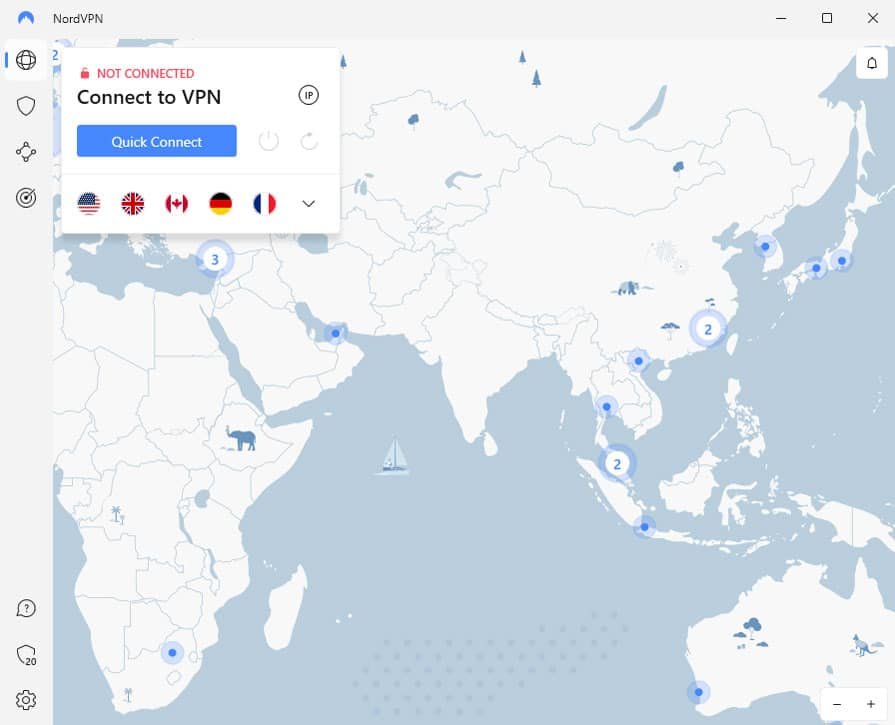 Quickconnect is a button within the NordVPN app which is used to connect to nearest and fastest available servers according to your Geographic region.
Most of the times it automatically chooses Malasia based servers when you are using NordVPN from India.
Because there is no NordVPN physical or virtual in India. They have shut down their physical servers from India after the implementation of new VPN laws in India in Jun 2022.
Server
They have more than 5000 servers available worldwide in 59 countries. As of date they have 5652 different servers across the globe.
And out of 5652 servers, most of the servers are situated in the USA and European countries. There is no NordVPN server in India. We hope they should bring India based virtual servers very soon as ExpressVPN and Surfshark already have India based virtual servers.
Dedicated IP
They provide the dedicated IP if you choose any one from the five countries including France, Germany, Netherlands, United Kingdom and United States, where you can also have static IP address for your device.
When you click on the Dedicated IP option, it automatically connects to the optimal server and provides you with a dedicated static IP address.
You can also choose a specific country from the above-mentioned five countries after clicking on three dots right to the Dedicated IP option.
Double VPN
NordVPN provides double VPN security to protect their data when enabled. You can find Double VPN feature within the app which passes the data from two different servers from different countries.
It provides you with an extra layer of security. You can choose Double VPN from the list as shown in the image given below. Double VPN also provides good speed.
When you click on Double VPN option, it automatically connects to the fastest possible server combinations according to your geographical region.
You can also choose a specific country from the available list of 9 countries after clicking on three dots right to the Double VPN option.
Obfuscated servers
Obfuscated servers are used in countries where VPN is banned like China and Russia.
Onion VPN
It is a feature provided by NordVPN when you are browsing through Tor browser.
P2P (Peer to Peer)
They have a dedicated server for torrenting purposes.
Speed is also good
It provides good ping rate in Singapore servers which is best for gaming.
Our opinion about NordVPN
Security
NordVPN offers three types of security technology.
NordLynx
OpenVPN (UDP)
OpenVPN (TCP)
There were no DNS leaks available.
Two factor authentication is available which is a very good option to protect your NordVPN account.
In our test we have found that NordVPN is working good with Netflix, Disney+ Hotstar, Prime video and Amazon prime.
No Log Policy
They have a "No log" policy, but minimal app functional data is collected by NordVPN for the smooth functioning of the app.
Audits
They have carried out two "No log" policy audits in 2018 and 2020. It's a very big thing and they also have many other audits.
RAM Servers
They have RAM servers which means data automatically deleted after some time. In worst case if someone hacks their servers even then they will not be able to track their logs because logs are automatically deleted on RAM based servers.
CyberSec
It is used to block ads and ads trackers only when VPN is enabled.
Threat Protection
Threat protection blocks cyber threats in real time. It ensures cleaner, safer and more private internet. It even works when VPN is disabled.
It has 7 tabs which provide different functionality. List of all 7 tabs with their functionality is given below:
Block Ads: Protect your privacy and reduce exposure to malicious ads.
Block web tracker: Keep trackers off trail for truly private browsing.
Block access to malicious websites: Avoid accidentally catching malware while browsing the web.
Remove tracking parameters: Clean up web addresses by removing tracking parameters for more privacy.
Check files for threats: Scan downloaded files and delete the harmful ones before they do damage.
Deep-scan files for threats: If the quick scan can't tell if a file is safe, it is uploaded to the cloud for advanced malware detection. Deep scan applies only to executable files, so no personal data is processed.
DNS filtering: When you are connected to VPN, DNS filters ads and malicious domains before the threats reach your device. The blocked threats are not listed.
Meshnet
Link remote devices in Meshnet to access them over encrypted connections.
It is useful to play multiplayer games with friends no matter where they are.
It also provides access to local web servers of your peers and lets them securely access yours.
It provides freedom to access files from anywhere.
Kill Switch
Kill switch disable the internet in your device if VPN is stopped for some time.
It prevents apps or your device from making unprotected connections. Kill switch secures your data from accidental exposure by quitting selected apps or disabling the internet until VPN connection is restored.
Split Tunneling
Split tunneling in NordVPN is a very useful feature as you can access predefined VPN exempted apps directly without VPN and non-selected apps with VPN.
It provides you with an option to choose which apps need VPN protection and which you can trust to access the internet directly.
Pros and cons of NordVPN
We have personally used NordVPN is one different device including PC, Android and other platforms and tried to provide the unbiased review so here we have found some pros and cons in NordVPN which are as follows:
Pros
Good Speed
Less Ping
RAM servers
Good for online streaming
Ad Blocker
5652 server location
6 Devices support
24×7 customer support
Carried out 2 No log audits
Cons
No virtual server in India
No free trail
Get NordVPN, only now 68% OFF +3 months FREE!
Final Words
So, we have found that NordVPN is a great choice in terms of paid VPN. It also provides good features as well as being the fastest in the VPN industry.
But it is not good when you want to use Indian servers because no physical or virtual servers are available till date.
ExpressVPN and Surfshark VPN are also very good and give tough competition to NordVPN.
If you want a paid VPN with all features at a low cost, then Surfshark may be a good option. But Surfshark website is not opening in India, and the reason is still unknown.
NordVPN app download
You can downlaod the app from NordVPN website as well as from the native app stores from different platforms.
Like you can download NordVPN Android App from Google Play Store and NordVPN iOS app from Apple App store.
NordVPN Price
NordVPN has three types of plans (Standard, Plus, Complete) with three subscription (Monthly, Annual, 2 Years) types. Here we have provided complete details of NordVPN plans. You can now choose any one of these according to your choice.
Purchasing an annual or 2-year plan can give you 3 months extra as an offer.
| | | | |
| --- | --- | --- | --- |
| Plans | Monthly | Annual | 2 Years Plan |
| Standard | $11.99 | $67.35 | $99.63 |
| Plus | $12.99 | $82.35 | $126.63 |
| Complete | $14.29 | $101.85 | $161.73 |
| Best Offer | Buy Now | Buy Now | Buy Now |
Here we have arranged the best possible plan for our readers. You will get 3 months extra on purchases of NordVPN for 1 year subscription.
Get NordVPN, only now 68% OFF +3 months FREE!
Is NordVPN trustworthy?
NordVPN is a popular and reliable VPN provider across the Globe. It is also one of the oldest VPN providers. They have a No log policy, so they don't store their user's data on the servers. NordVPN has carried out their No logs policy audit twice in 2018 and 2020, so their no log policy is trustworthy.
What are the cons of NordVPN?
NordVPN has no major cons, but they have no physical or virtual servers in India. And they also don't offer NordVPN free or trial version.
What country owns NordVPN?
NordVPN headquarters are located in Panama, and they come under the Jurisdiction of Panama. And Panama has very friendly VPN policy and they don't come under five eyes, nine eyes and fourteen eyes jurisdiction.
Is NordVPN owned by China?
No, NordVPN is not owned by China. Even VPNs are banned in China. NordVPN is headquartered in Panama. It is a sub-company of Nord Security which is itself a reputed and well-established brand.
Can I be tracked if I use NordVPN?
VPNs are used to browse the internet anonymously. It is safe to assume that you can't be tracked by Govt., hacker or even ISP if you are using NordVPN.
You should always use kill switch feature of NordVPN if you want to confirm that your activities on internet are unable to track by anybody.
Is there a better VPN than NordVPN?
NordVPN is one of the best VPNs available across the world. But there are many other VPNs which also provide the same functionality as NordVPN at a comparative price.
ExpressVPN and Surfshark VPN are also very good and give tough competition to NordVPN. If you want to a paid VPN with all features at a low cost, then Surfshark may be a good option. But Surfshark website is not opening in India, and the reason is still unknown.
More Related Posts