Samsung phone water damage repair cost in authorized service center is different for different smartphones.
And the final cost for the repair of water or liquid damaged smartphone depends on the damaged smartphone parts.
If your smartphone just dip into water and you immediately extract it from the water and keep it into sunlight to make it dry then there are chances that only a few parts will damage in you smartphone.
But if your Galaxy phone emerged in water for a long time then most of the components and parts may get damaged due to liquid entered inside all the components of the smartphone.
Here we have took an example and intentionally damaged a Samsung phone with liquid.
Here we have created a table which shows you the Samsung F22 brand new smartphone price, water damaged F22 spare parts replaced cost and labour charges levied by Samsung service center to repair the water damaged Samsung Galaxy F22.
| | | |
| --- | --- | --- |
| New Phone | Spare Parts | Lobour Charges |
| 12,999₹ | 15,911₹ | 413₹ |
Damaging Samsung phone with water
First we have intentionally damaged Samsung phone due to water. To carry out the complete experiment we took Samsung Galaxy F22.
So first of all we took Samsung phone, aquarium filled up of water and a timer and started the experiment.
We started video in the Galaxy F22 so that the phone screen remain glowing until the smartphone is dead.
Now we emerged Samsung phone into water and started the timer. We must tell you that Samsung F22 is not a waterproof phone its just a normal phone and its a budget range smartphone pricing approx. 12,999.
As soon as we emerged Samsung F22 into water bubble started coming out from the charging port, it means water started entering inside it.
And less than a minute screen goes blank and our Samsung phone become dead. Flashlight started blinking and the mobile screen was completely black.
And we kept the phone into water for more than 60 minutes to confirm that it is completely dead.
Now we extracted our dead Galaxy F22 from water and tried to switched on but nothing happened. Now we are completely sure that our Samsung phone is fully dead due to liquid entered inside it.
What can be damaged in phone due to liquid
Water or any other liquid can damage your smartphone completely. Samsung phones has lots of components which are liable to get damaged due to water.
Water can enter into your Galaxy phone through SIM and SD card slots, charging port, microphone holes, speaker holes and headphone jack holes.
And it also depends on time your smartphone has spent inside the water. If the water has entered inside the main smartphone then the following parts can be damaged:
Charging port
Microphone
Speaker
Headphone jack
Motherboard (Contains RAM, ROM & Processor)
Camera
Display assembly
Battery and Battery assembly
Other components
Display and motherboard are the most costlier parts in a smartphone. If your smartphone is emerged into water for a long time then it will be very difficult to repair it.
And the actual repair cost will may be higher than the real cost of that new smartphone.
Samsung phone water damaged repair cost
As we have already mentioned that we intentionally damaged Samsung F22 by water. We emerged it into water for more than a hour.
After that next day we took it to the Samsung authorized service center to know the complete repair cost of the smartphone.
Samsung service centers are generally found crowdy as many people own Samsung phones. But the Samsung service cetners are bigger than other brands service centes.
They also have good siting arrangements and also provide the basic facilities so you will feel comfortable while waiting for your turn.
When we handed over our smartphone to Samsung service center representative they told the almost accurate repair cost at the first day itself.
They told that the complete repair cost will be about 16,200₹-16,500₹ and the final bill was of 16,324₹.
But the main thing to note is that the Samsung F22 new phone price is 12,999₹ and we had paid 16,324₹ for the water damaged repair only.
So we reach to the conclusion that Samsung after sale services are the costlier than other smartphone brands.
And they took 3 days to repair the smartphone but when we got the smartphone we found that smartphone is working nicely.
Samsung also charges 350₹ as labour charges excluding of 18% GST for smartphone in which any spare part is replaced.
So Samsung charges complete 413₹ including GST as lobour charges for every repair which includes replacing of the smartphone components.
Samsung Galaxy F22 spare parts price excluding GST are available in our dedicated post.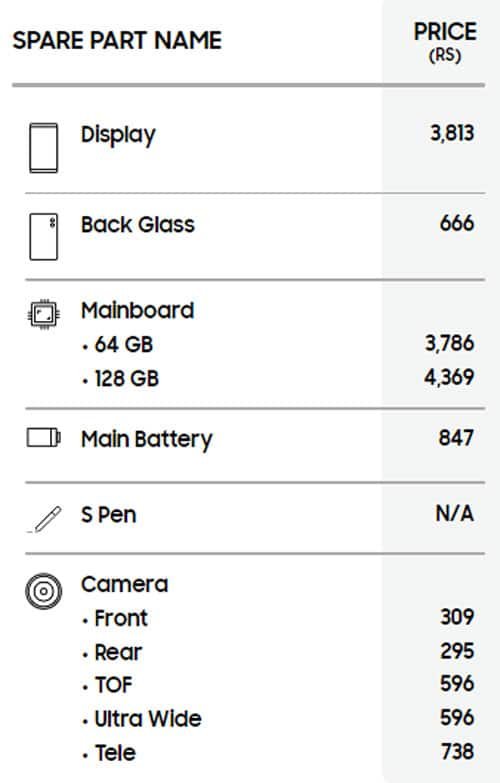 Conclusion
You should take all the precautionary measures to protect your smartphone from water damage. Because all the data stored in your smartphone will be lost.
As service center will replace the motherboard and they will never copy your data stored in old motherboard to your new motherboard.
And the final Samsung phone water damaged repair cost will go beyond the same model's new phone cost.
There is no other way to repair your smartphone at home but you can take some steps immediately after your Samsung phone emerged into water.
Switch off your mobile
Try to remove the battery if it is removable.
Remove everything like SD card, SIM etc.
Don't try to power on and charge your mobile.
Try to dry it in sunlight.
Take it to the service center for further action.
You can also try to open your smartphone at home itself immediately to remove the battery and make your phone dry immediately, otherwise water can damage the other parts also.
You have to pay for very higher charges at Samsung authorized service center to get repair your water damaged Samsung Galaxy phone.