You have purchased a Samsung phone after doing deep research and you are satisfied with its performance. But after a couple of months you find your Samsung phone has started lagging or it is not working properly as it was working in starting.
Now you reach to a conclusion that your Samsung phone has become slow and you want to make it fast at any cost because no one like to use slow smartphones.
So guys, if you are tired of searching how to make Samsung phone faster on internet then you have come at the right place because here we have explored all working tips to make Samsung phone faster in 2022.
Most of the tips and tricks available on the internet are outdated or not working with most of the Samsung Galaxy devices.
But here you will find the authenticated and reliable information about how to increase Samsung mobile speed.
Turn of auto synchronization, turn of unused services like Bluetooth, wifi, hotspot, location and more.
Also Read: Samsung One UI 5.0 VS One UI 4.1
Speed up Samsung phone
You can increase your mobile performance as well as speed by following the given below steps. You need not to change
Turn on Auto optimization
Go to system Settings in Samsung phone.
Tap on Device Care.
Tap the three dots on top right corner.
Now tap on Advanced.
Tap the switch to activate Auto optimization.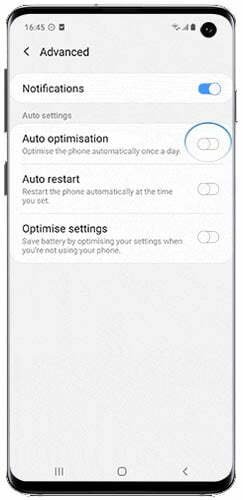 Set to high performance mode
You can also find many performance mode in every Samsung smartphone. You can set one suitable mode as per your requirements.
We recommend you to set performance mode to high or optimize to get the maximum performance in your smartphone.
High performance: Higher system speed, maximum screen brightness and resolution.
Optimized: Get the recommended balance of performance and battery life.
Note: High performance mode consume more battery as compare to other three modes. So set it for a specific time when you want to run your Samsung phone at a maximum speed. Otherwise you can set your phone to Optimized mode and it will automatically look after everything.
Uninstall the unused apps
You can find many apps installed in your Galaxy phone which are rarely used. Figure out all the unused and less required apps in your Samsung mobile and uninstall theme one by one.
Make sure you delete all the related app data before uninstalling the app. You should also uninstall the unused system apps also if you can uninstall theme easily.
Some apps always run in the background and consume your phone resources like RAM, ROM, CPU and even battery also causing your phone to slow down and excessive battery usage.
Also Read: Samsung mobile motherboard price
Clean internal storage
Make sure you have sufficient free space left in your Samsung phone. Sometimes smartphones are required some space in internal storage to save thumbnail or temporary files to access them quickly so sufficient memory must be free in your internal storage of your device.
If your phone storage is full you can take backup of your device to external storage media like Pendrive, hard disk or computer.
You can also use a good quality memory card to extend storage in your Samsung phone if your are facing low storage issues in your Galaxy device.
But make sure you purchase a good quality and high speed memory card from trusted brands only as low quality memory card can slow down your phone performance in many cases.
Memory card (external storage)
You should install your most frequent apps in internal storage of your device as internal storage is always faster than a memory card.
If you have installed any memory card in your Samsung phone then please make sure that your are using it as a secondary storage or for backup purposes only.
If you have installed some apps in memory card then you should immediately move them to internal storage.
You should also set photos and video recording location to internal storage of your phone only but later you can manually move them to memory card if required.
As I personally faced an issue that when I selected camera storage location to memory card, video recorded in high resolution were not smooth in memory card they were getting pauses at many places.
It was happening even when I was using a high speed memory card.
Also Read: Samsung One UI 5.0 update new features
Restart Samsung mobile
Sometimes a simple restart can fix many problems in any electronic device including smartphone, computer and other gadgets.
So make sure you restart your device frequently. You should at least restart your device once in a week.
It will be a good choice if your set your device auto ON and OFF feature to daily at night at any suitable time.
I recommend you to set your device power OFF time to 02:00AM and power ON time to 02:10AM. In this case your phone will be switched off for 10 minutes only and restart automatically with best performance.
Stop Auto launch for apps
You can set do not auto start app for apps other than critical and messaging apps. As most of the apps want to run in the background even when you are not using them causing your Samsung phone to slow down.
You should trace these types of apps and set there permission to do not auto launch or auto start the app.
Go to system settings and then go to apps. Now select apps one by one and disable auto launch or auto start app feature for less used and non critical apps.
Also Read: Samsung Galaxy Z Flip 4 processor price
Use lite edition of apps
If you are using lots of apps in your Samsung Galaxy device then you will find that your phone has become very slow.
In this case you should trace unused and less required apps and uninstall them. If you don't want to uninstall many apps from you Galaxy device then you should consider the lite version or Go edition apps of all those apps.
Lite version of apps is also known as Go edition of the apps. Most of the popular apps on Google play store have their lite version which are very less resource hungry.
Increase Samsung mobile speed (Advanced)
We have explained the basic easy settings to increase the Samsung mobile speed which will enhance the system performance. But if above tricks doesn't give you satisfactory outputs then you need to proceed to advanced options.
You need to enable the developer mode to enable these features. So first of all we want to explain how to enable and enter in developer mode.
Open system settings in your mobile.
Scroll down and tap on about Phone option.
Tap on Software information.
Tap 7 times continuously on Build number.
Developer options feature is enabled in your phone.
Go to system settings to find the developer options.
Also Read: Mobile brands service center comparison
Limit the background processes
There are so many services are required to run in the background for the smooth functioning of Samsung phone. But there are some useless services also run in the background which consume system resources unnecessarily.
If you can't control them then you should limit the background processes. You can define the background process limit to 4 or less according to your choice.
You can follow the simple steps to increase the speed in your mobile:
Go to settings in your mobile.
Tap on Developer options (if enabled).
Find the background process option.
Set background process limit to maximum 4 at a time.
Set Animation scale
Go to system settings in your mobile.
Tap on the Developer options (if enabled).
Find the window animation scale.
Set animation scale to 0.5 for given below options.

Window animation scale
Transition animation scale
Animator duration scale
Turning off animation can also boost performance of your smartphone.
Also Read: How to remove Google Account FRP lock in Samsung
Turn off or reduce auto synchronous
Auto synchronous is ON by default in smartphones. And most of your app data data is synchronous to the cloud storage.
In this process some services are required to run in the background and as well as consume the data.
This process can also decrease the process of your smartphone so you can turn off auto sync in your mobile.
You can turn off auto synchronous by going to User and accounts section in settings in your mobile.
For more information you can also follow Google and Samsung guidelines on how to increase speed in Android mobile.
Reset Samsung phone
If none of the above tricks work for you then there might be serious issue with your Samsung phone. In this case you may need to reset your Galaxy phone.
Resetting any smartphone can also fix many troubleshooting issues and increase the performance and battery life of your device.
You can reset Samsung mobile to factory reset settings. We have dedicated guide on how to reset Samsung phone properly.
How to make samsung phone faster?
Speed up samsung phone?
Samsung phone slow after update?
Speed up samsung phone?
Samsung mobile speed increase code?
how to make samsung phone faster using developer options?
how to speed up samsung galaxy?
More Related Posts