Welcome back Guys, Samsung has started rolling out One UI 5 update for Galaxy devices in a phased manner. Samsung S-series device including Galaxy S21, Galaxy S22 and Galaxy S22 Ultra already upgraded to Android 13.
Many other Samsung smartphones launched in 2022 will get One UI 5 update in Dec 2022 itself. If you are waiting or already upgraded your Galaxy device to Android 13 then you might want to know about the new features added in this update.
One UI 5 brings many new features to the Galaxy devices, some of these features are totally unique and others resembles to iOS and Windows.
Also Read: Samsung One UI 5.0 VS One UI 4.1
I have personally noticed that Samsung palette (basically an Android 13 feature) is inspired from Windows 10. As Android 13 palette feature totally resemble with color option under personalization in Windows 10.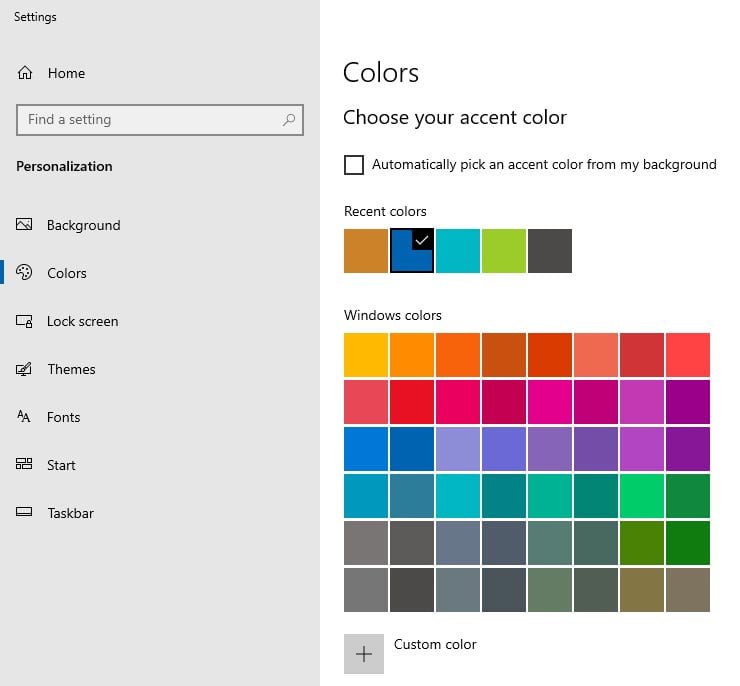 Lock screen on One UI 5 is totally inspired from iOS 16 by Apple. We are also in Favour with Samsung because you can learn good things from others including your competitors also.
Also Read: Samsung Android 13 update development stages
One UI 5 features list
There are about 73 new changes made in One UI 5 update which we have discussed below in this post. Out of the 73 changes, some are majors and others are minor.
Samsung One UI 5 feature list is authenticated and referred from official Samsung One UI 5 page.
Customization and expression
Lock screen customization
More wallpaper choices
Easy recognition with call background
More options on your color palette
Modes and Routines
Easier discovery of preset routines
Sleep mode
Modes for your activities
Active routines at a glance
More conditions and actions
Widget
Stack widgets on Home screen
Smart suggestions widget
Multitasking
Change the view with a gesture
Quick open apps in split screen
Connected experience
Hide phone notifications on your TV
Connected devices menu
Google Meet

Video call with Google Meet
Share experiences together with live sharing
Design and interface
Smoother animation
Improved blur effects and simplified color schemes
Updated app icons and illustrations
Camera and gallery
Help guides in Pro mode
Histogram in Pro mode
Easy zoom with one hand
Add watermarks to photos
Telephoto lens in Food mode
Easy filter selection
All-new look for Stories
Customize albums in Gallery
Photo and video editor
Keep Portrait mode effects even after editing
Draw perfect shapes on photos and videos
More sticker options
Enhanced GIF editing
AR Emoji and stickers
Diverse AR Emoji stickers
Do more with AR Emojis
Samsung Keyboard
New emojis for emoji pairs
Rearrange expression buttons
Instant kaomoji on keyboard
Spacebar row customization
Extract and scan text
Extract text from any image or screen
Contextual suggestion
Samsung DeX
Newly added taskbar
New notification indicator
Mini calendar
Notification
Notification accessibility
Easier controls
Detailed settings
Improved design layout
Settings
Exceptions for Do not disturb
Auto optimization
Menu improvement for sound and vibration settings
RAM Plus in Device care
Different language settings for each app
Privacy and security
Warning when sharing personal information
Intuitive security check
Secure web browsing
Accessibility
Readability options in quick panel
Use your phone as a magnifier
More voice assistance
Easily edit on Accessibility button
New actions on each corner
Some minor features added in One UI 5
Calendar
Managing event invitees
Add stickers to your Google calendar
Add video conferences to your events
Reminder
Added 'Today' category
Show and hide completed reminders
Reminder view setup
Samsung Internet
Easier bookmark folder Editing
My Files
Enhanced search for all files
Clock
Added feature to run 20 multiple timers at a time.
Safety and emergency
Shortcut to Send SOS
Integrated emergency contact list
Samsung One UI 5 top feature detailed overview
Here we have tried to explain all the newly added features in a very simple way.
Customization and expression
You can now customize wallpaper, clock style and notification settings from a single place by taping and holding on the Lock screen with a live preview.
It is now also possible to cut and trim a video to make a live wallpaper. Samsung has redesigned the Wallpaper settings and made it very easy to find wallpapers for Home and Lock screens.
You can now browse through newly added Dynamic Lock screens, colors and graphic wallpapers in one place.
Newly added call background feature also provide you option to add separate background for each contact saved in your Galaxy device for easy recognition to see who is calling you.
New color palettes have been added in the settings section. You select any one out of total 16 color palettes. Color palette is a special color themes that match your wallpaper or preset color themes that are beautifully curated to fit your taste.
Modes and Routines
Discover screen has now simplified design layout for the easy finding of useful routines.
Sleep mode lets you automate You can now do more actions in sleep mode like changing the sound mode and adjusting the screen brightness.
Choose a mode based on your mood and activity you are performing, such as exercising, studying or working to act your phone according to the situation.
Widget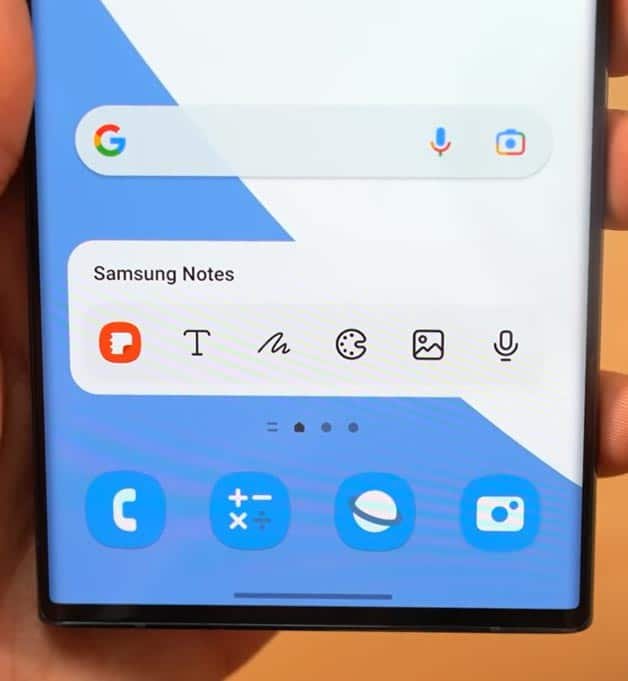 Stack widgets on home screen provide you option to combine several widgets of the same size into a single widget to make your home screen look neat and organized.
You can create a stack widget by dropping a widget on another widget and then swipe left and right to switch between widgets.
Smart suggestions widget uses your usage patterns to suggest the best widget you are required with at a particular time.
Multitasking
Swipe up two fingers from the bottom of the screen to enter in the split screen.
Swipe one finger from either corner to the center at the top of the screen to enter full screen to pop-up view.
You can now turn on or off Gestures in Settings Labs.
Drag apps from the taskbar or Recent screen to open them however is most convenient for you. Drag to the top, bottom, left, or right edge of the screen to open in split screen. Drag to the center of the screen to open in a pop-up.
Design and interface
Added new animations and transition effects which make switching between screens feel more natural.
Improved Animations and other visual feedback.
Background blur effects on the quick panel, Home screen, and throughout One UI have been improved with brighter colors for a clearer and more consistent experience.
App icons are larger to make them look bolder and easier to recognize. A new illustration style is applied to certain apps to give a consistent look.
Camera and gallery
Help icon has been added in camera and video Pro modes to provide helpful tips on how to use various lenses, options and controls.
Use the Histogram in Pro mode to check the brightness to help you get the perfect exposure.
Zoom bar is minimized to zoom in and out with a single hand.
Option to automatically add a watermark in the corner of each photo containing the shot date and time. You can also add the custom information.
Filters selection for Camera, photo editor and video editor mode are optimized. All filters are available in one list.
Photo and video editor
Portrait mode effects such as blur, studio and high-key mono are now saved even after cropping, so you can adjust the background effects at any time.
Draw certain shapes such as a circle, triangle, rectangle or heart by using the pen tool in Photo and video editor.
Hold your finger on the screen when you finish drawing to make it instantly transform to straight lines and perfect angles.
60 new emoji stickers are added to make more fun with your photos and videos.
Trim and transform animated GIFs to make them the right size or shape.
Create stickers from any photo using lasso tool.
Extract and scan text
Extract text using Samsung Keyboard, Internet, Gallery, or whenever you take a screenshot. You can also modify and paste the result into a message, email, or document instead of typing.
When text appears in an image in Gallery, Camera or other apps, certain actions will be recommended based on the text.
Settings
Add individual contacts as exceptions to Do not disturb to ring or vibrate for specific person even when Do not disturb is on.
Device care is optimized to keeps your phone running smoothly through automatic optimization. Automatic restart feature is also added for the batter functioning of smartphone.
Menus have been reorganized to make it easier to find the sound and vibration options you need. Set your ringtone and change the volume and vibration settings, all in the same place.
Added shortcut to turn off RAM Plus. It can now be turned off right away in Device care.
Added feature to choose different languages for each app based on your usage preference in Settings.
Privacy and security
Added a feature which warns when you share personal information which contains sensitive information, such as credit card, ID card or passport.
Security dashboard in Settings is optimized which lets you easily check security issues and fix them instantly.
Added feature in Samsung Internet which show the site's security status in the address bar. You can also tap the icon to learn which information the website collects and tracks.
More Related Posts