Apple and Samsung are two smartphone market leaders. Apple devices including iPhones, iPad and MAC devices are powered with iOS on the other hand Samsung Galaxy devices are powered by Android by Google.
Samsung One UI 5 is the latest version on One UI for Galaxy devices based on Android 13 version. On the other hand, iOS 16 is the latest version of iOS by Apple.
As we have already mentioned that iOS is the property of Apple itself on the other hand One UI is just a customized version of Android by Google. So, Google has all the rights to add, remove and make changes in its future Android versions.
Everyone dreams to own an Apple device as it has become a status symbol but also want to own a Samsung device because it provides more flexibility and features than iPhones.
So, in this post, we have compared Samsung One UI 5 and iOS 16 by Apple in details to choose one between both.
One UI vs iOS
New features implementation
Apple add new features after a lot of research, so it takes much time to bring any new feature to its iPhones.
But Android smartphone brands including Samsung add many new features frequently to their devices. Many times, Samsung add features before the Google add in new Android version.
So, Samsung is faster than Apple in terms of bringing new features to their devices.
Stack widgets in Samsung provide more size options as compared to Apple iOS 16 which only offers two sizes.
Animation comparison
Samsung One UI 5 and iOS 16 both offer good animation. But iOS 16 in Apple devices has smoother animation than One UI 5 devices.
Multitasking
Apple is lagging behind Android in terms of multitasking. On the other hand, Samsung offers split screen as well as pop up window option.
You can now open split screen very quickly by swiping up two fingers from bottom to upward in Samsung devices.
Split screen feature has become easier and more convenient in One UI 5, on the other hand iOS16 by Apple even doesn't offer pop-up window and split screen feature even in iOS 16 version.
Lockscreen
iOS 16 devices have the option to customize the lockscreen date and time widget. You can also change font style and type of data & time widget on lockscreen.
Samsung has also added lockscreen customization feature in its One UI 5 update and it is inspired from Apple iOS 16. But it doesn't matter what has inspired you but must have it.
iOS also offers such features, and it also offers battery lock screen customization options, like you can set time in the foreground or after the lockscreen image.
And even Samsung is offering more features than Apple to customize the lockscreen.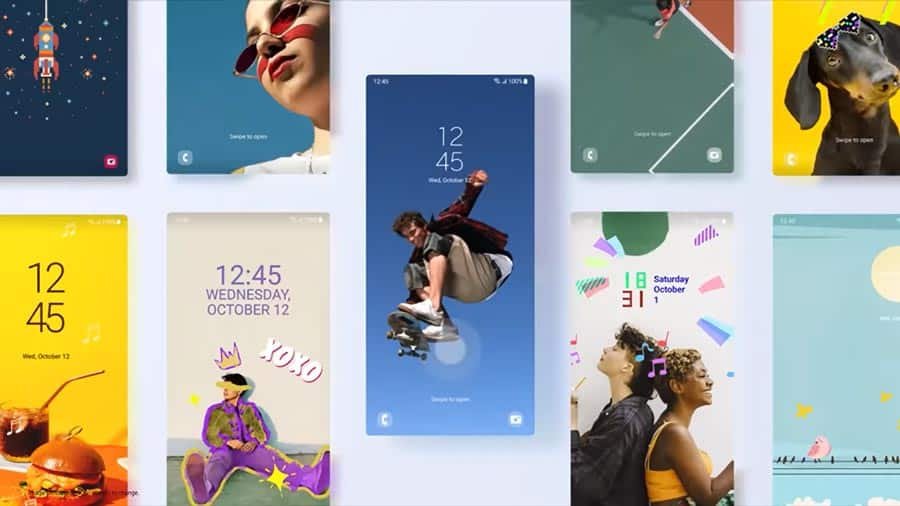 Always on display
Apple has also added Always on display option in its latest smartphones including iPhone 14 pro and 14 Pro Max, but it is still not available in older iPhone models.
On the other hand, Always on Display is available on almost all Galaxy series smartphones launched in 2022 and later.
Homescreen
Homescreen on iOS 16 devices are having very less features as compared to Samsung One UI 5 devices. Samsung has introduced color palette option which offer its users to change 16 different color palette option across the whole device.
Icon pack in Apple iOS devices has no improvement over its previous version but it still looks classic, and many people love the icon pack in iPhones. But some people are finding iOS icon pack boring as it is same from a long time.
On the other hand, Samsung has made many changes in its icon pack over the time, but iOS icon pack is still unbeatable so it's totally up to you to choose between these icon packs.
But iOS devices have very less homescreen customization options and on the other hand Samsung One UI 5 has a lot of customization options.
Security & Privacy
Information security is a major concern in this era because you have everything in your smartphone including photos, videos, documents and other personal to official information.
We are always worried about our data security as nothing is secure over the internet. Everything is vulnerable over the internet so we should always refer good practices to save our data when we are on the internet.
So here Apple provide very good data security and privacy features. And this is the main reason why people prefer Apple devices over Android. As Apple iPhones are less vulnerable than Android devices.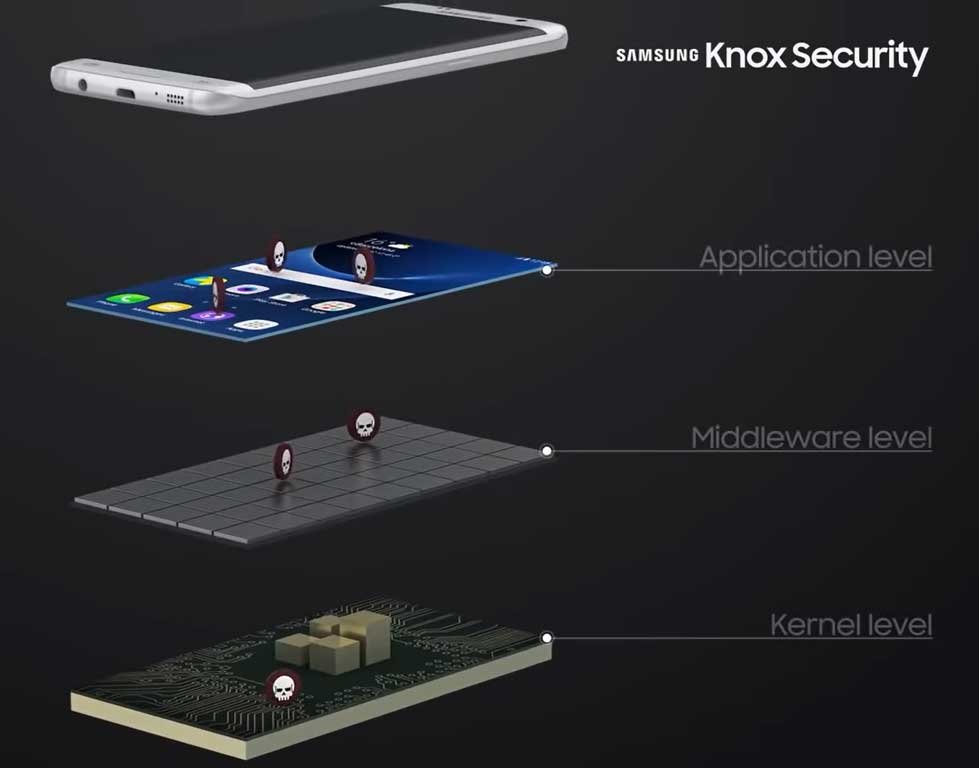 Although Samsung also claim that its Galaxy devices also has defense grade security by Knox Security. But even than data experts prefer iOS devices over Android devices.
Camera
Cameras in Apple devices are just amazing as they are capable of producing very decent quality of images with less megapixel lens as compared to higher megapixel lens in Android devices.
One UI 5 offers batter camera options like allow you to create a gif image from a recorded video clip, extract text from photo, find a phone number from a photo and provide you an option to directly call to that number.
iOS 16 takes it further in copying text from images. You can even copy text from any video and use it on other apps very easily. This feature is available in few Samsung devices but most of the Samsung devices doesn't offer copying of text from videos.
iOS 16 also offer instantly converting images into PNG format by long pressing on them and also provide you the ability to paste them in other apps like WhatsApp, Facebook and more.
iOS 16 has a nice photo editing feature which allows you to copy and paste all the editing settings from one photo to many others.
Buttons & shape
I personally like silent/general profile button on the iPhone, but Samsung devices doesn't offer such feature.
Apple devices have very nice and classic look on the other hand Samsung has launched many Galaxy models with unique design and styles.
Samsung has innovative Flip, Fold note and other series which offers you a foldable screen.
Voice Assistant
iOS and One UI devices have different voice assistant with different capabilities. Siri in iPhone devices are far better than Bixby in Samsung devices.
iOS vs One UI features comparison table
| | | |
| --- | --- | --- |
| Parameters | iOS 16 | One UI 5 |
| Operating System | iOS by Apple | Android by Google |
| Launch Date | 12 Sep 22 | 24 Oct 22 |
| User Interface | Classic | Customized |
| Notification center | Yes | Batter |
| Animation | Batter | Yes |
| Always on Display | Yes | Batter |
| Recent Apps | Yes | YES |
| Smart Sidebar | No | Yes |
| Multitasking | Yes | Batter |
| Split Screen | No | Yes |
| Pop-up windows | No | Yes |
| File Transfer | Difficult | Very Easy |
| Memory Card | Not Supported | Supported |
| Privacy | Batter | Yes |
| Security | Batter | Yes |
| Theme store | No | Yes |
| Bloatware | Yes | Yes |
| Ads | No | Yes |
| Hide Apps | No | Yes |
| Smart Assistant | Siri | Bixby |
| Home Screen | Fixed | Customizable |
| Lock screen | Customizable | Customizable |
| Icon Pack | Amazing | Good |
| Icon Customization | No | Yes |
| App Drawer | No | Yes |
| Battery Saver | Batter | Yes |
| Doc Scanner | Yes | Yes |
| Built-in Doc viewer | Yes | Yes |
| Floating Apps | No | Yes |
| Lockscreen | Glance | Glance |
| Live Wallpaper | Yes | Yes |
| WiFi Share | No | Yes |
| Steps Tracker | Yes | Yes |
| Screenshot | Yes | Yes |
| Camera UI | Good | Batter |
| Photo Editor | Yes | Yes |
| Video Editor | Yes | Yes |
| Always on Display | Yes | Yes |
| Edge Lighting | Yes | Batter |
| Dark Mode | Batter | Yes |
| Eye Comfort | Yes | Yes |
| Clone Apps | No | Yes |
| Split screen | No | Yes |
| Security App | Yes | Yes |
| Customization | Less | Batter |
| Personalization | Less | Batter |
| Game Space | No | Yes |
| Screen Recorder | Yes | Yes |
| Call Recorder | Yes | Yes |
So, it is very hard to decide a clear winner because both the Apple as well Samsung devices have some positive and negative points.
In some case Samsung lags behind Apple and on the other hand Samsung is leading over Apple.
iOS 16 supported Apple devices list
iPhone 14, iPhone 14 Plus, iPhone 14 Pro, iPhone 14 Pro Max
iPhone 13, iPhone 13 mini, iPhone 13 Pro, iPhone 13 Pro Max
iPhone 12, iPhone 12 mini, iPhone 12 Pro, iPhone 12 Pro Max
iPhone 11, iPhone 11 Pro, iPhone 11 Pro Max
iPhone XS, iPhone XS Max, iPhone XR, iPhone X
iPhone 8, iPhone 8 Plus
iPhone SE (2nd generation or later)
One UI 5 supported Samsung device list
Galaxy S21, Galaxy S22, Galaxy S22 Ultra
Galaxy Z Flip, Galaxy Z Flip3 5G, Galaxy Z Flip4, Galaxy Z Fold2 5G/LTE, Galaxy Z Fold3 5G, Galaxy Z Fold4
Galaxy S10 Lite, Galaxy S20 FE, Galaxy S20 FE 5G, Galaxy S20, Galaxy S20+, Galaxy S20 Ultra 5G, Galaxy S21 FE 5G, Galaxy S21 5G, Galaxy S21+ 5G, Galaxy S21 Ultra 5G,
Galaxy Note10 Lite, Galaxy Note20, Galaxy Note20 Ultra 5G
Galaxy A32, Galaxy A33 5G, Galaxy A51, Galaxy A52, Galaxy A52s 5G, Galaxy A53 5G, Galaxy A71, Galaxy A72, Galaxy A73 5G, Galaxy A12, Galaxy A13, Galaxy A22, Galaxy A22 5G, Galaxy A23, Galaxy A03, Galaxy A23 5G, Galaxy A03s, Galaxy A04, Galaxy A04s
Galaxy M32, Galaxy M32 5G, Galaxy M33 5G, Galaxy M42 5G, Galaxy M52 5G, Galaxy M12, Galaxy M53 5G
Galaxy F62, Galaxy F22, Galaxy F42 5G, Galaxy F1, Galaxy F13, Galaxy F23 5G
Galaxy Tab S6 Lite, Galaxy Tab S7 FE, Galaxy Tab S7, Galaxy Tab S7+, Galaxy Tab S8, Galaxy Tab S8 5G, Galaxy Tab S8+, Galaxy Tab S8+ 5G, Galaxy Tab S8 Ultra, Galaxy Tab S8 Ultra 5G, Tab A7 Lite, Galaxy Tab A8
More Related Posts